The London-based OMFIF has become an important monetary thinktank in the last few years. Founded by former FT-journalist David Marsh the OMFIF now is an influential voice on monetary and political affairs. A look at its advisory board shows why. Yes, I have been on this board for a number of years now as well. My writings for the OMFIF concentrate on the monetary role for gold and the coming changes to the international monetary system.
David was one of the first to embrace The Big Reset, when the book was published in 2013. With his help,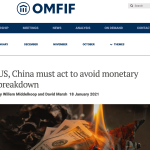 I was able to befriend and interview some of the most influential Chinese monetary experts. In a joint op-ed we conclude the 'US and China must act to avoid monetary breakdown' and 'the system needs a reset'.
With the rise of quantitative easing after the 2008 financial crisis, intensified by the Covid-19 pandemic, central banks are exerting ever-greater control over financial markets. This is part of an era of debt-fuelled state capitalism that is looking increasingly vulnerable. The system needs a reset. Joe Biden has an opportunity to strengthen the international monetary framework after he takes over the US presidency on 20 January – an immense challenge that will be nowhere near the top of his priorities.