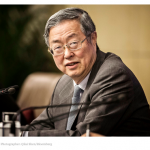 China wants a 'gradual increase in world-wide use of the IMF's SDR' and use both the U.S. dollar and the SDR's to report the country's reserves of foreign currencies.
China will also consider issuing bonds denominated in SDR, People's Bank of China Governor Zhou Xiaochuan explained in a transcript published on the PBoC's website, according to the WSJ.
His remarks were made at a special meeting, named "Nanjing II," held in France, March 31. A similar conference was held in Nanjing on the same date in 2011.
German Finance Minister Wolfgang Schaeuble, U.K. Chancellor of the Exchequer George Osborne, IMF Managing Director Christine Lagarde discussed the world's financial architecture together with China, without any senior US official present.
According to Bloomberg the event gave China an opportunity to argue 'the global monetary system is too reliant on the dollar', an idea China has been pushing since the 2008 global financial crisis.
Bloomberg reported:
The event was organized by the French at the request of China, which holds the G-20 presidency this year. China has made reforms to the world's financial architecture a priority of its term, forming a working group chaired by France and South Korea to study the issue.
"China wants a much more closely managed system, where private-sector decisions can be managed by governments," said Edwin Truman, a former Federal Reserve and U.S. Treasury official. "The French have always favored international monetary reform, so they're natural allies to the Chinese on this issue."